VENDIS Sales Force Automation
VENDIS Sales & Distribution System has been designed and built to automate complex business processes in Sales and Distribution for Principals as well as Distributors especially in Fast Moving Consumer Goods (FMGC).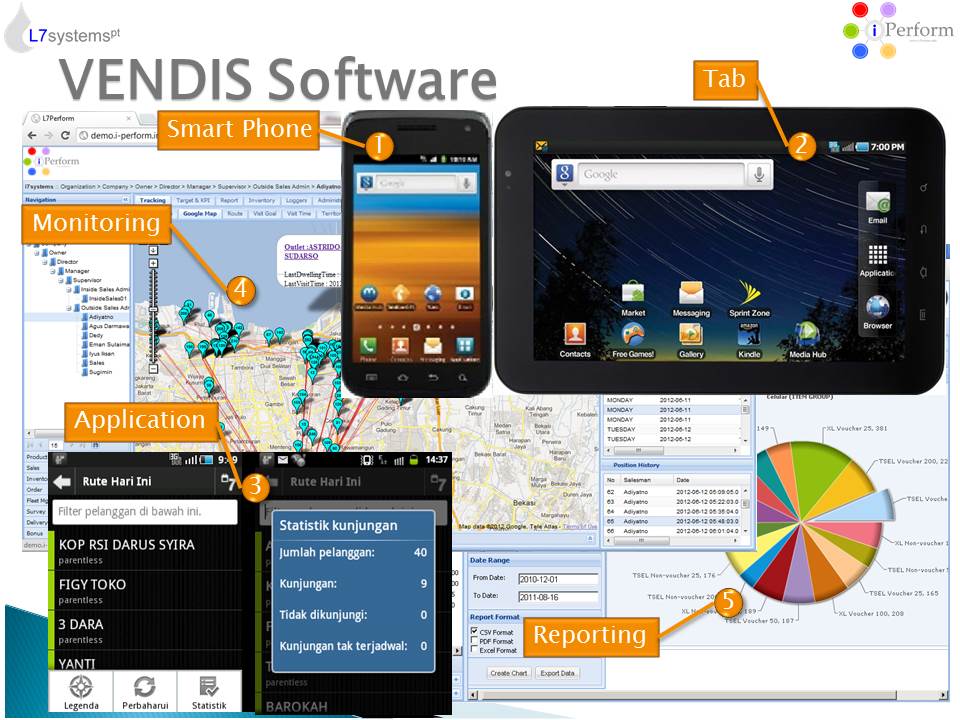 VENDIS Software Overview
Managing Sales/Order Process with hundreds or even thousands of customers/stores/outlets combined with large products and product categories in challenging environment is not easy. Distributors or Principals mostly have geographically dispersed customers/stores/outlets and tens or even hundreds of salesmen or pre-sellers that will need to be well directed and managed, all of the above add more complexity to existing processes.
To make things more complex, Distributors most often have to maintain flexible prices to categories of customers.
With VENDIS Sales & Distribution System, Principals and/or Distributors will be able to automate and gain clear business operation view with advanced reporting and analytic tools that come out of the box with the Software.
Key Advantages over Traditional Sales Process
Real-time Sales/Order Taking
Real-time Sales Tracking
Route Planning/Assignment
Real-time Monitoring of Sales, Route and Area
Real-time Reporting
Advanced Sales/Order Analysis
End-to-end Business Transparency
Higher accuracy than traditional methods
Increase Efficiency in Business Process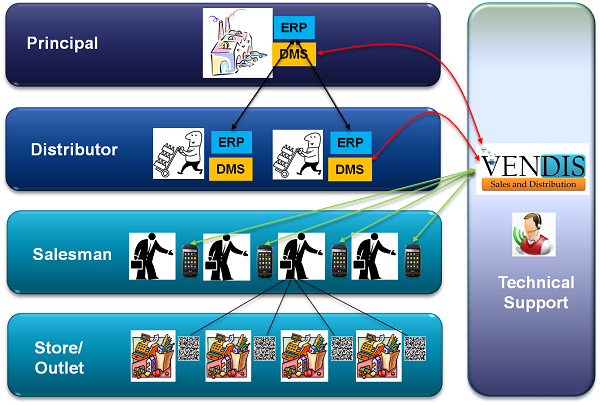 VENDIS Target Market
Operational Level
At the operational level, salesmen and pre-sellers are equipped with our intelligent VENDIS application that runs on affordable Android® or Blackberry smart phones. VENDIS app enables salesmen to do transaction on the smart phone while he travels to or visits customers.
Tactical Level
At the tactical level, Administrators and Supervisors will be able to plan and assign daily routes to salesmen, and more importantly they will be able to monitor and track the progress and sales on real-time and on daily basis
Strategical Level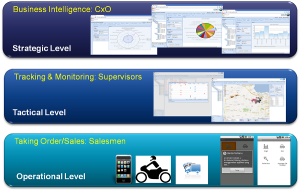 Taking Transactions: Order, Sales, Delivery, Bonus and Payment
VENDIS helps CxO (CEO, COO or CFO) or owners at the strategic level with business operational performance such as revenue analysis, product analysis, geographical review through comprehensive reports generated by VENDIS that can be conducted on regular time interval (daily, weekly or monthly).
With VENDIS, Principals and Distributors are able to conduct thorough end-to-end business analysis and review. Corrective actions can be taken in real-time if necessary so that it forms a closed loop systems for continuous improvements.
Route Planning, Assignment and real-time Monitoring
VENDIS allow Administrators to plan for the most efficient routes for a set of customers within a specific area or territory. In addition to route planning, Administrators will be able to assign prepared routes to salesmen.
Using geographical map embedded in VENDIS, Supervisors will be able to monitor and track salesman position and more importantly track sales progress in real-time.
Business Intelligence: Analysis and Review
The most exciting VENDIS's features to executives and business owners is the ability to review and analyze reports such as sales or order activity, product acceptance and pricing and also area potential and coverage. These reports can be furnished within seconds or minutes without any big overhead.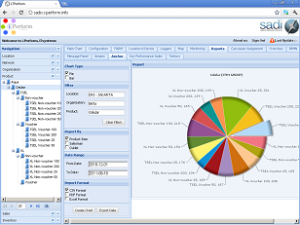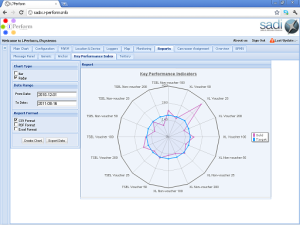 Please contact us for further detail and risk-free pilot and deployment !